Nextqore was started to create Technology that integrates of industry movements – Connected Things, Cloud Adoption and Data Driven Operations.
Our vision for the future is almost everything is Digital – in a way that adds value to our professional lives, creating a better harmony of things to work for all of us, which we had not imagined 20 years ago. The combined effect it will have is getting things done efficiently, environmentally safer and whatever else comes along as bonus on the way.
We believe Machines, Materials, Structures, Things, Conditions, all will be lot well known to us as we create very rich usable data purpose built to create sustainable high relevance. So when we create Technology – Our Customer's lives getting better is our Focus.
The Data Integration Story
Data driven methods of running business have always been a desire- the movement of Sensor technology, data networks, image processing and Cloud data stacks – and the integration of these in an intelligent, configurable and cost effective manner is becoming lot more realizable now.
This is the next major movement after mobile phones – The Connected Everything.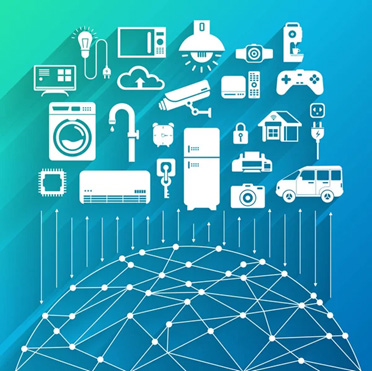 Why a Data Science Platform

Data integration is taking importance for a purpose – to solve real life problems better, faster and improve service. It's about converting reactive behavior to proactive behavior in the conduct of business – This requires data be structured, reasoned, actioned and used for intelligence in various dimensions that humans can't do on a sustained basis – but created to make their working life better.
Nextqore architecture uses globally established toolkits. Some of the salient features include:
Microservices architecture
Clear segmented multi-tenant as well as dedicated cloud architecture
Fine defined, granular user management framework – admin user and operational users
Security framework to make it robust and reliable
Adherence to the Twelve-Factor App Principles
Product Implementation Roadmap
As a startup, our immediate focus is to select key customer problems that can be solved – using our technology and industry standard components.
Our Customers carry an Expectation from Technology to realize their Digital Vision. We are thinking about such vision as we progress our product development efforts, to provide them with the right technology platform when they need them.
| | | |
| --- | --- | --- |
| | Current | Digitization Using Nextqore |
| Data Sources | Disparate Sources | Intelligent Data Mesh with Open validation principles |
| Integration | Standalone | Deep Enterprise Integration of Multi Stage Alerts, Stage Wise programming, ML deployment at edge and Cloud |
| Data Ownership | Various | Cloud + In-app Security + Blockchain |
| Users | IT & OT Teams | Data Scientists & Massively Parallel Citizen Development Code Developers (Lambda Extensions) |
| Operation Improvement | Phased Improvement, lengthy | Exponential using ML, AI and multi-semantics of source data |
| Return on Investment | Implied due to Longer capex cycles of OT equipment | Killer Apps for Precise Biz Outcomes, pre-emptive actions at early stages of performance deviation – Quality Outcome of CM/CI |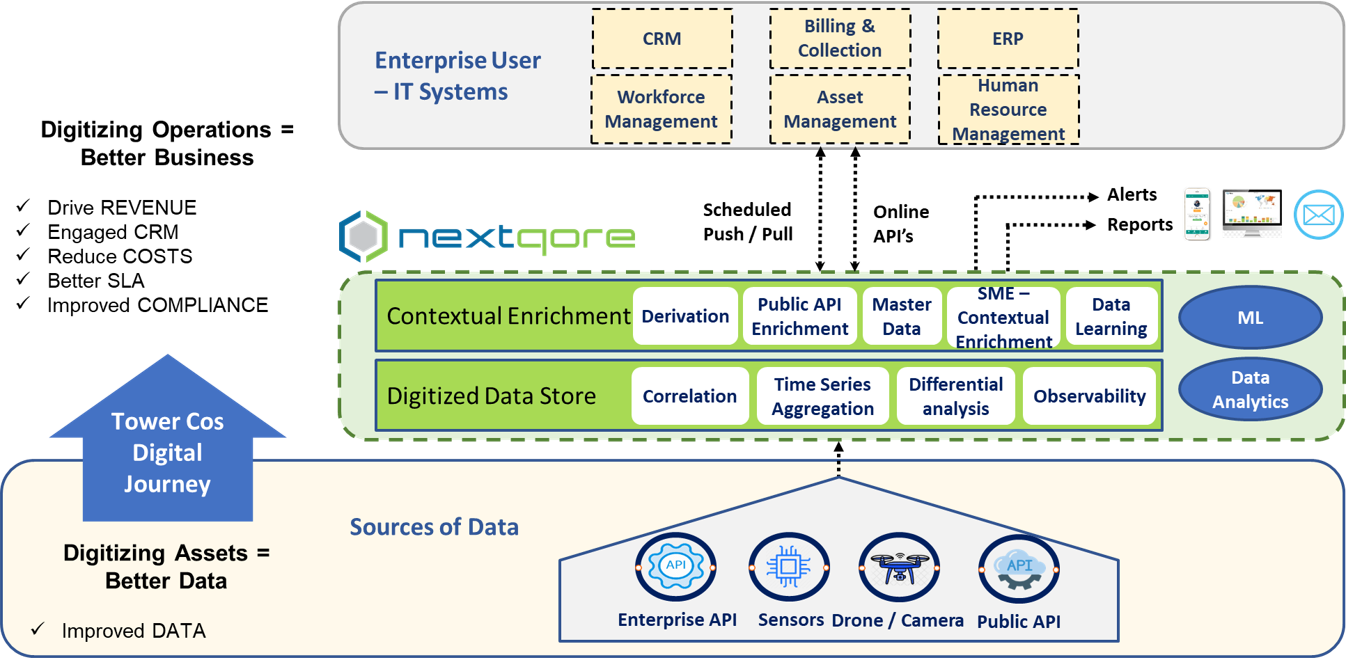 Digitization of Operations involves integration into existing IT systems. Nextqore allows API based pull that allows Customers to integrate validated data into their IT systems. In addition, the data can be pushed using a sophisticated Scheduler that publishes the right data to the appropriate system once the target data model mapping is defined and the specifications are agreed with the Customer.
Nextqore applies various data enrichment logic for both hot pipeline (Real-Time usage) and cold pipeline (Consolidated reporting) usage of data. These include:
Derivation – Using multiple sources and producing a combined value
Public API enrichment – Adding context on the conditions that might have an impact on operations being managed
Enterprise Reference Data or Master Data – Very specific business aspect that the business is aware of
Subject Matter Expertise for Semantics – Application of the data in a specific business environment, that adds deep insights into the meaning of data
Time Series Aggregation – Producing an extended aggregation of data to produce sum of values of various periods using instance collection
Observability – Built in framework to determine frequency, continuity and range of data to enable establishment of trust for the source of data especially received from controlled conditions sourced using sensors. Uses both time driven and adaptive control techniques for service observability based on the frequency of data capture