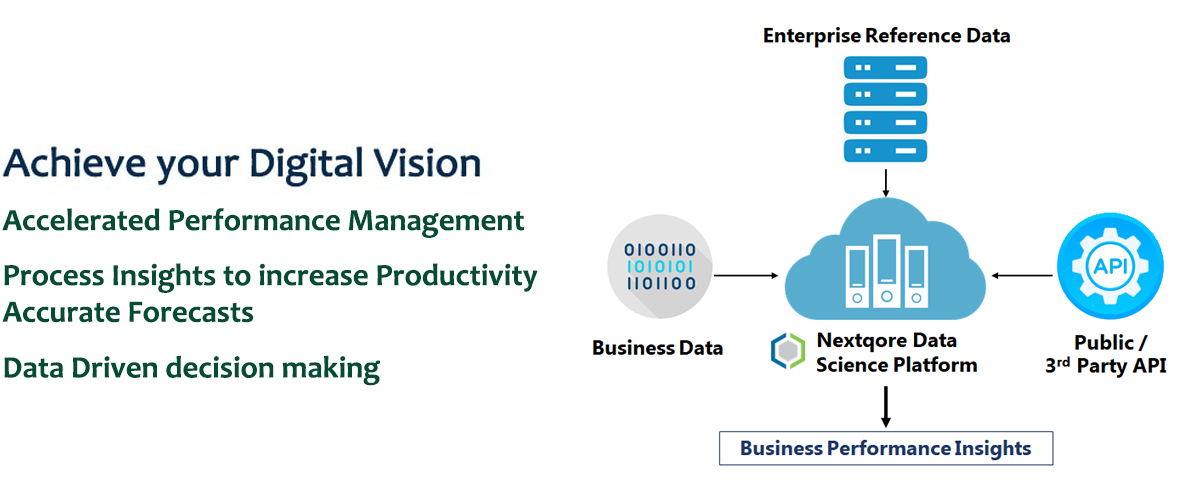 Business Performance Insights
Competitive businesses require agility in managing business performance. Managing growth and maintaining market share momentum against competition requires businesses to manage day to day effective decisions on:
New products, pricing and placements
Channel mindshare
Managing Customer Lifecycle Value
Managing business Infrastructure
Efficiency (to be optimal in spend) and Effectiveness (whatever is being spent is providing business results) are always sought after by Businesses.  The market changes are dynamic and can create dark spots that takes quite a long time to recover.
Real Time Data Science can play a pivotal role in providing insights on the efficiency and effectiveness of business processes. By analysing large amounts of data in real time, data science can identify actionable insights that can help businesses make better decisions and manage growth drivers better.
Application of Data Science can make the Business Process more Data driven:
1. Identify Data dark spots in the process
Provide hooks to Identify and eliminate Data dark spots by augmenting data from various internal/external sources
2. Accelerate Performance Management
Monitor the performance of the process and identify areas of improvement
Identify and reduce bottlenecks by providing actionable real-time insights that can start by faster reaction, and then move to proactive and predictive methods
3. Decision making with quantifiable, data-driven evidence
Enriching and contextualizing the data from multiple internal and third party sources
Providing insights by analysing and co-relating data
Providing accurate forecasts based on which Informed Business decisions can be made
Operating a SaaS model for Real Time Data Science provides a true partnership between Nextqore and its customers. Customers provide the true business context and Nextqore implements scenarios and insights in a way that's the agility in a combination of growth areas to enable growth manage and effective market facing spends.